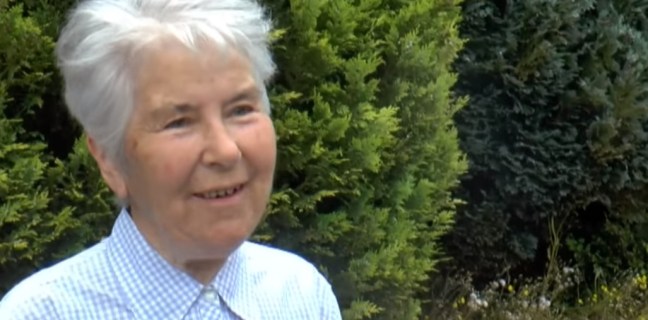 Shunned by families, welcomed by a Columban Missionary Sister
South Korea, like every other country in the world, is full of contradictions.
While its people have a huge and genuine regard for the elderly, born from adherence to strict Confucian culture, this doesn't always translate easily into caring for the elderly who are living with Aids.
There is still huge stigma surrounding Aids in Korea and there is a high rate of suicide in the country amongst those who are infected with the virus and this is in no small part due to their families and loved ones abandoning them.
Those living with Aids are plunged into a 'cold' and hard world and let's face it; the world can be cold to the weakest, the most outcast and the shunned.
Offering warmth, care and love however is a Columban Missionary Sister who is literally living out the Gospel values and established the first ever shelter for people living with Aids in Seoul.
For Sr Miriam Cousins from Mullingar, turning a blind eye was never an option and she was determined to bring those marginalised people into the wider 'missionary family'.
It was far from plain sailing however and Miriam faced many obstacles along the way.
"The shelter had a rather circuitous beginning. Originally I opened it as a shelter for prostituted women and then one day a man came who told me he was HIV positive. I just couldn't turn him away so I took him in and then began the process of finding somewhere more suitable and permanent for him"
However, none of the institutes Sr .Miriam contacted were willing to take in a person with HIV.
She had a staunch ally however in the shape of the late hugely respected and inspirational Cardinal Kim who contacted various people and the wheels were put in motion. Catholic Social Services provided some funding and this, coupled with money from private benefactors, allowed Sr Miriam to purchase a house to provide a shelter. The shelter we visited was cosy, welcoming and homely and its eight rooms can accommodate 18 people who are cared for by three staff. Though almost eighteen years in existence now, Sr Miriam is very careful not to attract too much attention to it for fear of drawing problems.
"We are very very careful not to let the locals know what we are doing here even now as quite simply they would not allow it continue in their midst. The stigma and shame surrounding HIV is quite amazing and very strong here".
"The stigma is perpetuated by the patients themselves; they don't tell even their closest friends or family in many cases and those who pluck up the courage to do so are turned away, it is very sad. On the day we visited the centre as part of our 'World Missions Ireland' trip we spoke to Kim who was diagnosed with the virus two years ago. The 37 year old man told us how suicide looked very appealing before he met Sr Miriam. "Sr Miriam gave me my life back, I feel safe here".
Particularly poignant was a meeting with 84 year old Chung. One of the staff members, Rosa, told us "He feels the stigma even more because of his age. He doesn't believe he deserves the respect normally afforded to the elderly because of contracting the disease. If Miriam hand not taken him in he would have been destitute. His family totally abandoned him. This shelter is a life line for him and it brings him peace and comfort "
Rosa continues "What Sr Miriam is doing here is unbelievable , she is the engine of this centre, she raises the funding, she does the programmes , sometimes we have to pinch ourselves as it really is an incredible sanctuary here ; she is like a Mother to the people who stay here. They are all from lower socio economic backgrounds so things are harder for them to begin with. The drugs to treat HIV/Aids are provided by the government; however the spiritual, emotional and physiological support is what we provide here".
And indeed all of the people we met agreed that without Sr. Miriam's facility their lives would be harder, bleaker and sadder.